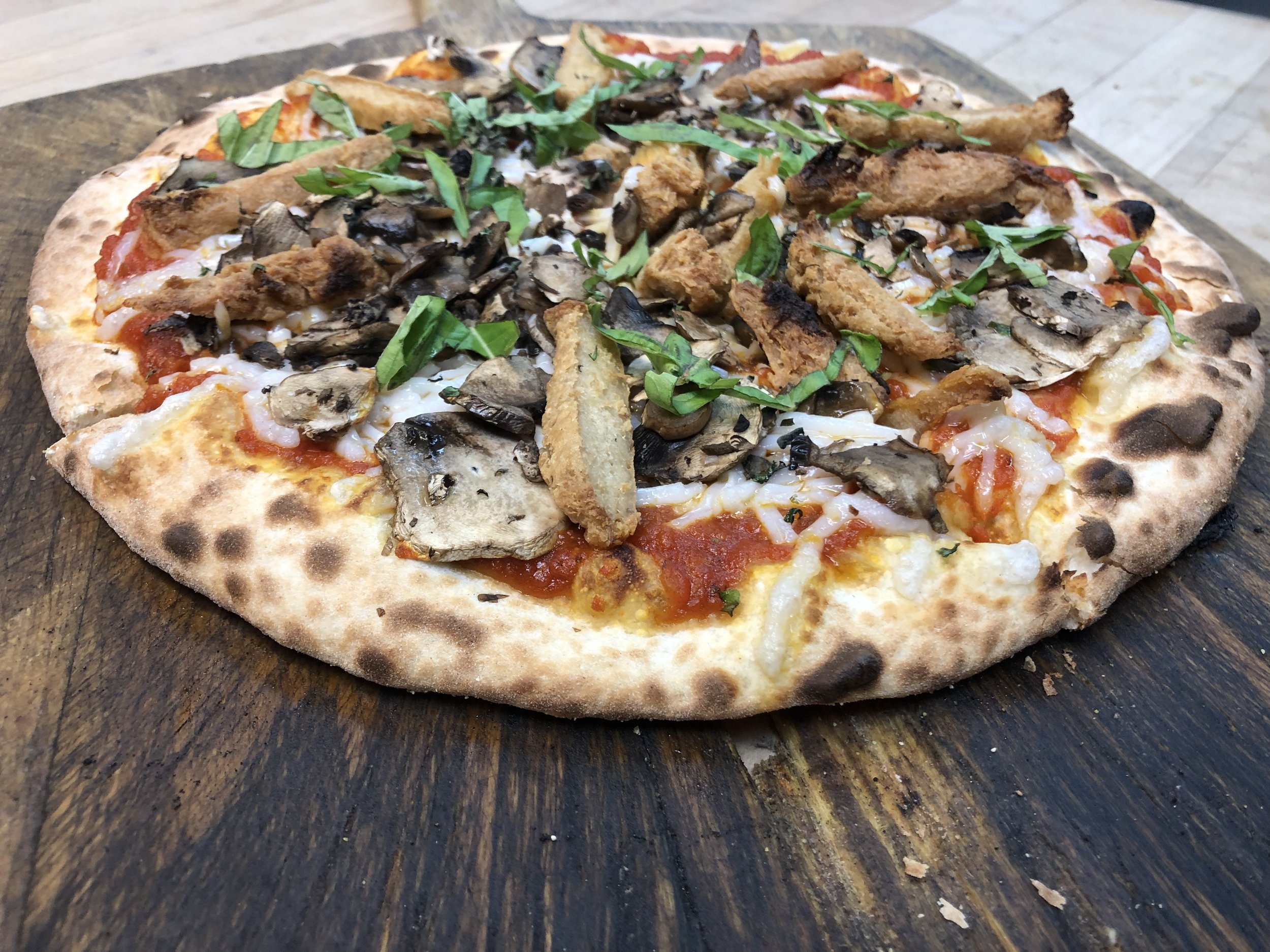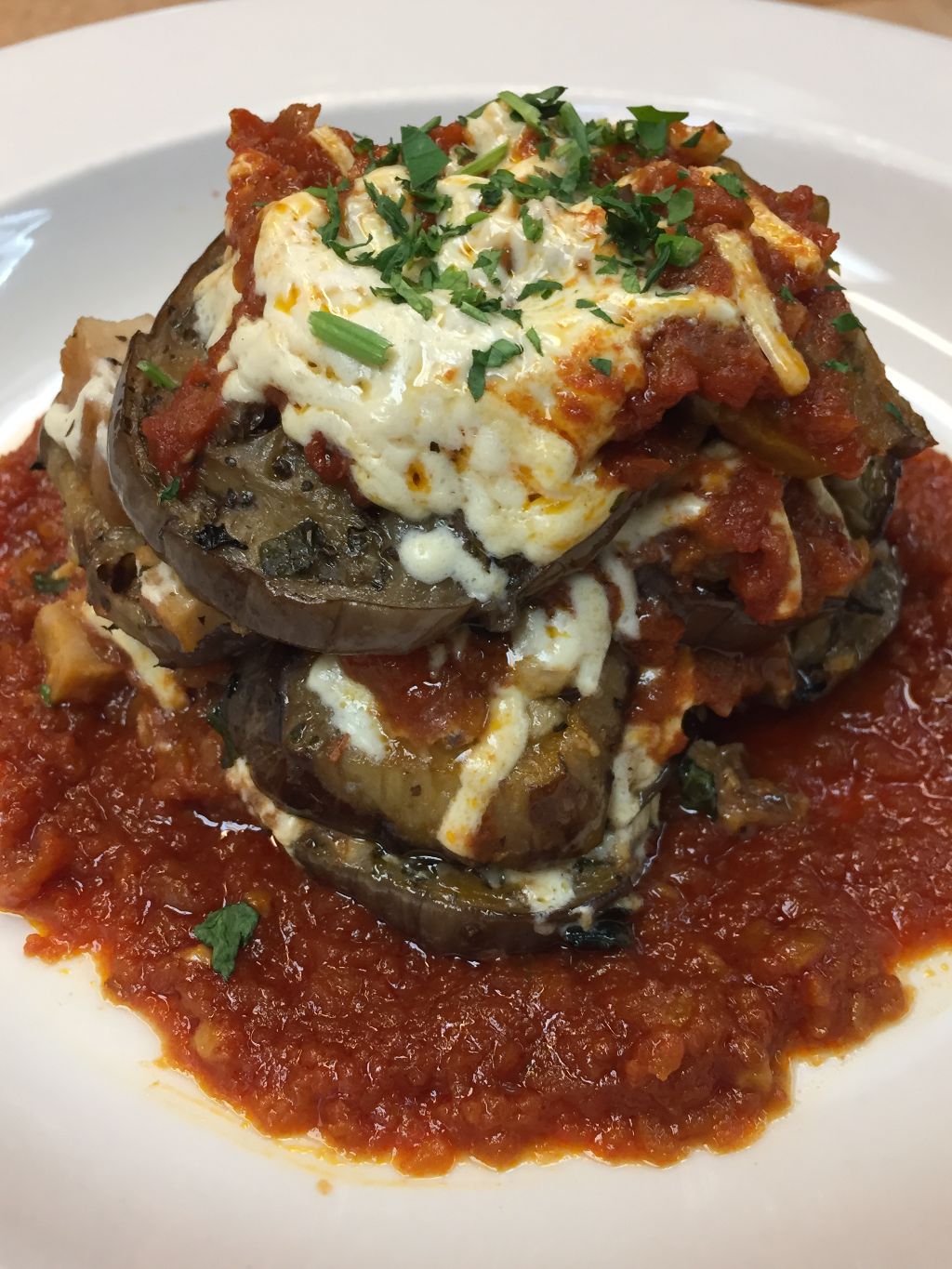 Vegan Eggplant Parmesan
vegan chicken, roasted eggplant, vegan cheese, housemade marinara, fresh herbs
House Lasagna
not your typical lasagna; strip steak,
San Marzano tomatoes, chard,
red pepper, onions, mushrooms,
garlic, ricotta; housemade béchamel
Piatto del Salumaio
smoked salmon, smoked mozzarella, prosciutto di Parma, Calabrian salami,
Siena capicola and San Remo olives
Calamari
fresh Rhode Island squid, oven seared with garlic, parsley and balsamic vinegar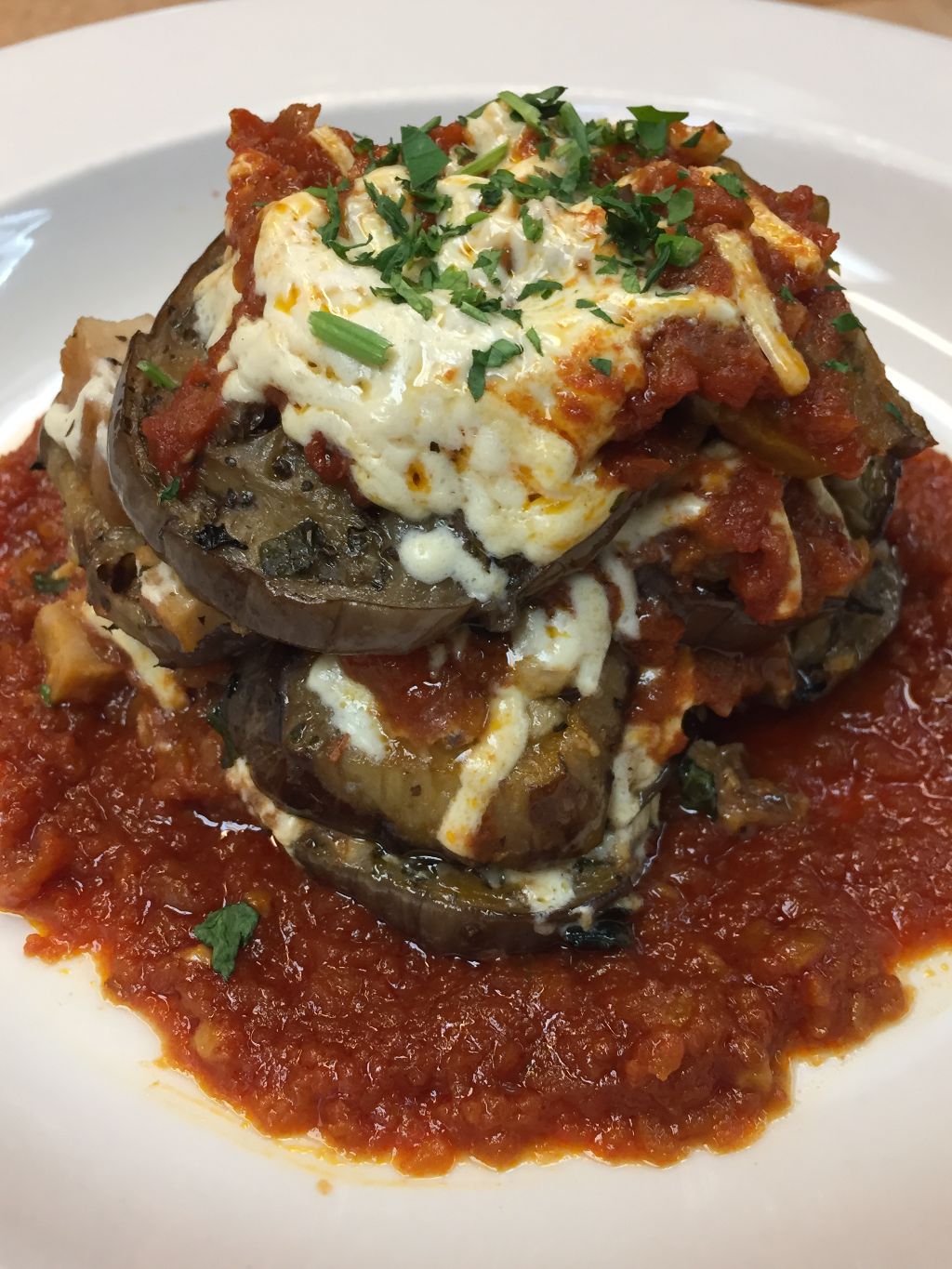 — Menu —
organic. biodynamic. sustainable.
8
Fettucine Meat Sauce
Housemade pasta with a bolognese of beef, sausage, carrot, garlic and onion, tossed with pecorino and Italian Parsley
8
7
Fettucine Alfredo
Creamy, housemade Alfredo sauce over fresh pasta
7
7
Fettucine Marinara (or Butter Sauce)
Fresh made pasta with housemade marinara or butter sauce
7
6
Margherita Pizza
San Marzano tomato with fresh mozzarella, basil
6
6
Pepperoni Pizza
Housemade pizza sauce, pepperoni, fresh mozzarella cheese
6
6
Cheese Pizza
Housemade tomato sauce, all-natural fresh mozzarella
6
3
Housemade Gelato
Double scoop of your choice of: Coffee with Belgian chocolate, fiordilatte, bittersweet Belgian chocolate
3
3
Housemade Sorbetto
Double scoop of your choice of: Pear, orange, strawberry, lemon
3
3
Baby Calzone di Nutella
Kid's size pizza dough stuffed with chocolate hazelnut cream and baked to order (alla mode 4)
3
7
Multi-Color Sweet Corn
oven seared with lime, garlic, and mint (GF)
7
13
Calamari
fresh Rhode Island squid, oven seared with garlic, parsley and balsamic vinegar (GF)
13
9
Tricolore "Caprese"
First of season Pennsylvania Hothouse red tomatoes, Italian basil, and fresh mozzarella (GF)
9
11
Apple Salad
wood oven roasted red apple in housemade butter with pine nuts, cranberries and Mountain Gorgonzola cheese (GF)
11
8
Oven Roasted Chard
seared young rainbow green chard with garlic, pine nuts, gold raisins and ricotta (GF)
8
10
Fried Green Tomatoes
slices of green tomato dusted in cornmeal and stuffed with fresh mozzarella cheese
10
9
Beet Salad
baby beets, walnut-garlic pesto, fancy greens, cucumbers, house vinaigrette (GF)
9
8
House Salad
mixed greens and seasonal flavors (GF)
8
9
Caesar Salad
housemade Caesar dressing, romaine lettuce, focaccia crostini, fried capers, and pecorini
9
26
Mahi Mahi
pan seared, fresh herbs, citrus glaze, sweet corn and wild mushroom succotash (GF)
26
28
Steak
12 oz. herbed grilled Angus rib-eye, rosemary potatoes confit, and Chef's bourbon sauce (GF)
28
30
Lamb Chops
New Zealand rack of lamb chops, marinated in fresh herbs and garlic, grilled in honey, sage, and brandy glaze, served with blue potato puree (GF)
30
22
Spinach Gnocchi*
housemade gnocchi, vodka sauce, mushrooms, spicy Italian sausage, smoked mozzarella
22
25
House Lasagna
not your typical lasagna, strip steak, San Marzano tomatoes, chard, red pepper, onions, mushrooms, garlic, ricotta; housemade béchamel
25
22
Pappardelle
housemade pasta, bolognese of beef, sausage, carrot, garlic and onion, pecorino and Italian parsley
22
24
Risotto
Shiitake, cremini, oyster mushroom, porcini stock, creamy cognac, pancetta, pecorino, Italian parsley
24
24
Trenette con Gamberi*
Texas gulf coast wild caught shrimp, tossed in a housemade trenette in a white wine, lemon, garlic and herbs reduction with feta cheese and field tomato
24
24
Smoked Salmon Rigatoni
Norwegian smoked salmon, creamy saffron sauce, capers, rigatoni noodle
24
*Gluten-free pasta may be substituted but takes longer to prepare
Our pizzas are wood-fired from our wood-burning oven
14 / 18
Margherita
San marzano tomato with fresh mozzarella, basil
14 / 18
14 / 18
Alla Verdura
greens, green tomato*, mozzarella, red onion
14 / 18
14 / 18
Al Cinque Formaggi
ricotta, provolone, mozzarella, pecorino, smoked mozzarella
14 / 18
15 / 19
Funghi di Bosco
assorted Pennsylvania organic mushrooms, provolone, garlic, italian parsley
15 / 19
16 / 20
Pepperoni
housemade pizza sauce, pepperoni, mozzarella cheese
16 / 20
15 / 19
Bianca Sette Colli
fresh mozzarella, lean Siena pancetta, red onion, rosemary, garlic
15 / 19
15 / 19
Melanzane
roasted eggplant, crimini mushroom, and red pepper, with smoked mozzarella and baby artichoke, parsley, olive oil
15 / 19
18 / 22
Soppressata
salami, ricotta, mozzarella, parsley, crimini mushroom, red onion, mint
18 / 22
18 / 22
Siracusa
tomato sauce, spicy Italian pork sausage, feta, oregano, olives, peperoncini peppers, onion
18 / 22
18 / 22
Pollo
chicken breast, roasted red pepper, red onion, provolone, crimini mushroom, and oregano
18 / 22
18 / 22
Saraceno
lamb sausage, smoked mozzarella, spicy moroccan sundried tomato harissa, mint
18 / 22
17 / 21
Prosciutto e Funghi
tomato sauce, prosciutto, basil, mozzarella, crimini mushroom, olives
17 / 21
18 / 22
Pancetta
lean Italian bacon, green chard, crimini mushroom, red onion, mozzarella
18 / 22
18 / 22
Genovese
basil pesto, shrimp, fresh mozzarella, pine nuts
18 / 22
18 / 22
Mediterranean
diced tomatoes, mozzarella cheese, capers, anchovies, Kalamata olives, roasted red pepper, oregano
18 / 22
Tofu, vegan chicken, and vegan cheese are soybean-based, Non-GMO
7
Multi-Color Sweet Corn
oven seared with lime, garlic, and mint (GF)
7
8
House Salad
mixed greens, seasonal flavors (GF)
8
11
Apple Salad
wood oven roasted red apple, in extra virgin olive oil, with pine nuts, cranberries, and vegan cheese (GF)
11
9
Beet Salad
baby beets, walnut, fancy greens, cucumber, house vinaigrette
9
8
Oven Roasted Chard
seared young rainbow chard with garlic, pine nuts, golden raisins, and vegan cheese (GF)
8
17
Bucattini alla Carbornara
organic smoked tempeh, vegan bucatini pasta, sweet potato, crumbled tofu, mushrooms, fresh garlic, Italian parsley, nutritional yeast, vegan cheese, housemade vegan demi-glaze
17
17
Risotto
Arborio rice, white wine, seasonal veggies, wild mushroom, porcini stock, nutritional yeast, vegan cheese, Italian parsley
17
16
Eggplant Parmesan
vegan chicken, roasted eggplant, vegan cheese, housemade marinara, fresh herbs
16
16
Steak and Potatoes
oven roasted portobello, stuffed with tomatoes and spinach, in a housemade vegan demi, glazed carrots
16
16 / 20
Vegan Chicken Pizza
housemade marinara, vegan chicken, mix mushrooms, fresh basil, vegan mozzarella
16 / 20
14 / 18
Margherita
San Marzano tomato, vegan mozzarella, basil
14 / 18
15 / 19
Funghi di Bosco
assorted Pennsylvania organic mushroom, vegan mozzarella, garlic, Italian parsely
15 / 19
7
Housemade Gelato
Flavors: Coffee with Belgian chocolate, fiordilatte, bittersweet Belgian chocolate, rum-coconut, pistachio, mint-chai, orange chai
7
7
Housemade Sorbetto
Pear, orange, strawberry, lemon
7
8
Calzone Di Nutella (alla mode 10)
Pizza dough stuffed with chocolate hazelnut cream and baked to order
8
12
Tiramisu
Housemade Ladyfinger crusted Tiramisu with organic egg-cream made with Illy Italian coffee and Chambord
12
14
Zabaglione
Housemade soft custard of Sicilian Marsala, organic eggs and cream with seasonal fruit
14
12
Housemade Limoncello*
Tito Organic Vodka from Austin Texas, San Benedetto Natural Italian water, organic Brazilian dark brown sugar, Florida lemon, served with a scoop of housemade lemon sorbet
12
8
Vegan Nutella Calzone
housemade vegan chocolate hazelnut cream stuffed in housemade pizza dough and baked to order
8
*Alcohol based, must be 21 or older
extra organic ingredients for pizzas only
olives are unpitted
each extra organic ingredients $2 for 9" $4 for 12"
not all pizzas have tomato sauce
$4 plate fee per person for cakes brought into the restaurant
$20 Corkage Fee